37% OFF
Free Shipping
Easy Emi
Nilkamal Assurance
PLUS MEMORY FOAM MATTRESS
This twin-layered mattress combines comfort with modern-day convenience
Advanced Memory Foam Mattress
No Partner Disturbance Technology
Premium Soft-Knitted Fabric
MRP. Rs. 10,886
Rs. 6,752
Inclusive of all taxes
Rs. 6,752
You Save Rs. 4,134 (37%)
Pay Day Sale Price is Including of 20% off
Description
Manufacturing Details
Product Dimension :
182.9 X 91.4 X 15.2 CM
Product Dimension :
190.5 X 91.4 X 15.2 CM
Product Dimension :
198.1 X 91.4 X 15.2 CM
Product Dimension :
182.9 X 121.9 X 15.2 CM
Product Dimension :
190.5 X 121.9 X 15.2 CM
Product Dimension :
198.1 X 121.9 X 15.2 CM
Product Dimension :
182.9 X 152.4 X 15.2 CM
Product Dimension :
190.5 X 152.4 X 15.2 CM
Product Dimension :
198.1 X 152.4 X 15.2 CM
Product Dimension :
182.9 X 182.9 X 15.2 CM
Product Dimension :
198.1 X 182.9 X 15.2 CM
Product Dimension :
190.5 X 182.9 X 15.2 CM
Product Dimension :
182.9 X 88.9 X 15.2 CM
Product Dimension :
190.5 X 88.9 X 15.2 CM
Product Dimension :
198.1 X 88.9 X 15.2 CM
Product Dimension :
182.9 X 177.8 X 15.2 CM
Product Dimension :
190.5 X 177.8 X 15.2 CM
Product Dimension :
198.1 X 177.8 X 15.2 CM
Product Dimension :
182.9 X 119.4 X 15.2 CM
Product Dimension :
190.5 X 119.4 X 15.2 CM
Product Dimension :
198.1 X 119.4 X 15.2 CM
This twin-layered mattress combines comfort with modern-day convenience. The top layer is memory foam mattress that aligns perfectly with your spine and the base layer is 100% PU Foam that rebounds back to its original shape. This state-of-the-art technology comes from India's favourite brand, Nilkamal.

Manufacturer Name:
Nilkamal Limited
Manufacturer Address:
Nilkamal House, Plot No.77/78, 14th Street, MIDC, Andheri (E), Mumbai- 400093.
Country of Origin:
India
FREQUENTLY BOUGHT TOGETHER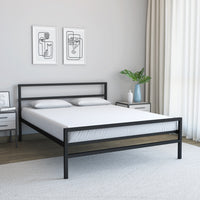 Striker metal bed
Striker metal bed
MRP. Rs. 15,999
Rs. 7,499
Inclusive of all taxes
Rs. 7,499
You Save Rs. 8,500 (53%)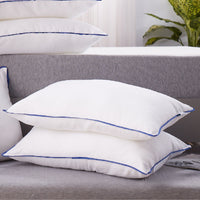 Cloud pillow (pack of 2)
Cloud pillow (pac...
MRP. Rs. 2,499
Rs. 999
Inclusive of all taxes
Rs. 999
You Save Rs. 1,500 (60%)
REVIEWS & RATINGS
Extreme Comfort
Have been sleeping on this mattress for over a month now. Extremely comfortable to sleep on and retains its shape despite rough use. Definitely recommended.
Mattress
This mattress is really beautiful and comfortable. Overall experience is good.
Review of mattress
Bought two products one of queen size and the other of a single bed....both the products are of very good quality, packing was done really well and was delivered on time...as per as the quality of foam is concerned it's very comfortable .
Mattress
Great mattress, very comfortable and classy by look. Great purchase experience overall👍
Beautiful, Comfortable and Reliable Products
This is my third consecutive purchase of the same because I love the quality of their products. My first purchase was 4 year ago which still look as new till date. Mattresses are very comfortable and have original shape till date. Very comfortable reliable and value for money
KNOW YOUR MATTRESS
Firm Orthopaedic Support
Heat-Regulating Knitted Cover
No Partner Distrubance
Premium Memory Foam
Soft Knitted Fabric
WHY PLUS MEMORY FOAM MATTRESS?
The Shape-Confirming Comfort
Warp yourself in the body-conforming comfort of the luxurious Plus Memory Foam Mattress. Its advanced memory foam core ensures optimal neck-spine alignment and reduces body pressure points for maximum body support and comfort. It comfortingly adjusts to your body shape to ensure you have the ultimate sleeping experience.
No Partner Disturbance Technology
Stopping your partner from tossing and turning might not be easy, but with the Plus orthopaedic mattress, their movements won't hinder your sleep. Thanks to No Partner Disturbance Technology, your partner can move around as much as they like without disturbing your sleep. Isn't that the kind of peace you seek?
Heat-regulating soft-knitted fabric
Whether you buy a single mattress for yourself or a double mattress to accommodate your family, the breathable knitted fabric on this ortho mattress will provide a cooling-soft sensation to ensure you get a relaxing sleep. Upgrade to a happier, healthier sleep. Upgrade to the Plus Memory Foam Mattress.
CUSTOMER REVIEWS
Read what our customers wake up to with Nilkamal Sleep
Let customers speak for us
Read All Reviews
Measure the firmness of your mattress
for a Good Night Sleep
Measure the firmness of your
mattress for a Good Night Sleep
PLUS MEMORY FOAM MATTRESS
PLUS MEMORY FOAM MATTRESS